Welcome to House of Imp
And this very odd year continues….
Fan of House of Imp? Be a supporter. Become a familiar (monthly or just this once..
Business at hand: ?Here's what's up at the moment.

I have made up my mind!
Produce like a JennyK
Is where I plan on gathering my productions, demos, mixes, and thoughts as a member of the Produce like a Pro Academy. I was inspired to join, and now I'm prepared to commit.
I am a producer. I dare say it. And the PlaP academy and specifically Warren Huart, has somehow pushed me to take myself seriously. I can and I will.
Of course, my current studio space is lacking but I'm slowly considering the small steps I can take to start.
The two minor steps I've taken, beyond getting to know my D.A.W inside and out simply by working a lot, are to order a replacement tube for my VTB-1 preamp, and to set up some decent speakers to use when mixing. They are not monitors, sure. But it changes the way I listen. Monitors in a room and more gear will come with time. But I do what I can right now. And I'm digging deep.
Bottom line is, I want to be the best I can be at the thing that I love. And I don't need to hold myself back.
I may not produce like a pro and make tons of cash, but I'm thinking that producing like a JennyK and being damn good at it has to be just as good.
So wish me luck. Help me pay for some of this if you're feeling it.
Sponsor the JennyK Studio!
In the Studio right now:

Check out the new Logic and voiceover page:
How to Logic where I'm adding short tutorials and demos, using voiceover -Screanreader on the Mac – with Apple Logic Pro -Digital Audio Workstation -, hoping to make life easier for audio nerds like me to do interesting things with sound.
Gathering resource links at the moment.
Podcasting:
As mentioned, our Music we Love podcast has ben put on hold.
Update: We are planning to record shortly.
The NAG radio can, and will, surface every now and then. It's just too much of a pet project for me to give it up. And Imp has to live somewhere, does he not?
Writing:
Nothing. Yep, I said nothing. I just found my priorities shift a little bit, as mentioned.
Icarus Machine:
Still in the works, that EP. Since the world has gone a bit crazy lately, it's become a more or less open ended pause in all things Icarus.
JennyK in real life:
No change really. It's puttering away, slowly, while I find things to do ten hours a day. 🙂
******
***
House of Imp is the personal website of JennyK – Vocalist, lyricist, and co-producer in the melodic metal band
Icarus Machine.
It is also a
Blog,
The Now and again Radio Podcast,
The Music we Love Podcast, and a collection of self-published
fiction.

Let the twitterverse know where you are and what you're doing. 😀
I was here, in the House of Imp, lurking or whatever. You should too!..
Click To Tweet
Last updated: May 17, 2020 at 16:41 pm
Welcome from jennyK
Icarus Machine 2019 –Corium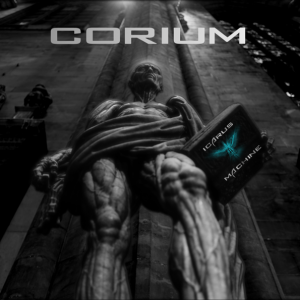 After two years it is finally finished. Corium is our second album and it is a couple of steps up from our debut album "This Sundered World" (2016). This album returns to the world created in the novel "A Mother's Heart." and the theme in this album expands the world and focuses on new characters. The companion novel to Corium – "Mother of Crow" is still being written with no release date in sight.
But Corium is very much ready and you can decide for yourself if it was worth the wait.
Find Corium on
Deezer,
Spottify,
iTunes,
Google Play,
and
Amazon.
and of course on
Bandcamp!
Read the latest on HOI, Icarus Machine, and JennyK :
What's New

Monday, Jan 27 @ 8:48

-

Latest news, thoughts, and things to come January 27, 2020 We made it to 2020, who would have thunk it. This website is safe for the year thanks to beautiful people who answered my emergency ask for financial help. I'm feeling quite humbled at the moment tbh. Icarus Machine is working on Fragile. i'm writing and revising a couple of novels. Some podcasting is underway too. This very moment, which is the only moment there is, things are not bad at all. May it stay so. Be well always. November 13, 2019 So, I started a fundraiser. My microphone is failing me, so I would love help with a new one. Sounds easy enough. Well, it's not. Psychologically and practically it's tough. I keep thinking it's a stupid thing to do. Why would anyone care. It's the wrong time of year to ask people for money, even if it's a few dollars. I'm not sick or homeless or in need of... anything truly critical for survival. Someone said to me, "It's a shot in the dark." I'm not sure what that actually means. but it doesn't feel like encouragement. Another issue that crops up is that since I do have a microphone, I use it so clearly I have one, my ask seems unnecessary and probably feels like a simple grab for cash. I'm not sure how to think about that. It makes me doubt myself. Grab for cash? Well, no! But I'm sure that depends on who you ask too. First world problem in a nutshell. but then I remember my actual situation and the reason why I started the fundraiser. It's simply because the gear I have is failing and I have problems keeping it running while I… Go to the post.
But if you're not in the mood for any of that:
Rest your brain with a fantasy text adventure: Play it here:
Crystal and Stone, Beetle and Bone – A fantasy game by jennyK
Or do some reading on the Mother of Crow novel page. You know, the novel I'm writing as I publish it? 😀
Or check out one of my favorite episodes from House of Imp – The nonsense collective podcast, House of Imp 21 – A gentle moment, a Relaxing Imp – Meditation made easy.
A meditation practice with Imp. Yeah, that Imp. Very…err, soothing? 😀
Leave a comment using Facebook