Welcome to The House of Imp Studio and JennyK Productions
Last updated: December 20, 2022 at 6:21 am
Another outlet:
TechnoWitch now on
Mastodon
Well, we'll see what happens. I'll try to be nice. 🙂
House of Imp Editing – How can I help?
Contact me for more information.
Read the latest on HOI, Icarus Machine, and JennyK :
What's New

Friday, Sep 17 @ 8:58

-

Latest news, thoughts, and things to come September 17, 2021 Changing direction. In short, I have changed DAW, the Digital Audio Workstation I use. Reaper has become my choice and I will lay out all the reasons for that in time. but what I've also discovered is that helping others to use this amazing piece of software is both really fun and so rewarding. And truth is that showing someone else also pushes me to learn new things. It's a classic win win situation. I have created a How to Reaper for the blind page on House of Imp. I'll populate that page with what I create be it demos or articles about working with Reaper when blind. I don't know yet if I will dedicate a podcast stream for Reaper education. It's still only a thought. let me get the content gathered and growing, then I'll see. September 16,… Go to the post.
JennyK andfamiliar: Mismanaging motivation since 2002. Assisted by Reaper, Mac, Focusrite, Motu, ATR, Yamaha, MXL, Ibanez, Landola, Wester, Line 6, and Pizza.
Icarus Machine – Fragile! released! !
Fragile, Icarus machine's third release is out now!
Fragile, distributed by Distrokid.
Find Fragile on all the places. Ask your Alexa to play Icarus Machine, Fragile. Find it on Spottify, Apple music, and Bandcamp.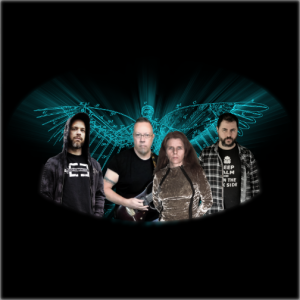 Fragile, distributed by Distrokid.
Spread the word! It's by far the easiest way to support us.
Share this on
Facebook.
And thanks to you all. In particular to kompoz.com where all of this madness got started and a whole bunch of crazy wicked excellent people simply rock! .

In more news:
JennyK is now on
Buy me a coffee! If you like what I do, hop over there and give me some love. I did however change it to Pizza. I've learned over many years on caffein and cranberry muffins that the body needs more than that. Pizza should cover the rest of the food pyramid, I'm thinking. 😀
***
More of my music and mixes on Pthe HOI Studio Portfolio page. and make sure to follow me on SoundCloud
But if you're not in the mood for any of that:
Rest your brain with a fantasy text adventure: Play it here:
Crystal and Stone, Beetle and Bone – A fantasy game by jennyK
Or do some reading on the Mother of Crow novel page. You know, the novel I'm writing as I publish it? 😀
Or check out one of my favorite episodes from House of Imp – The nonsense collective podcast, House of Imp 21 – A gentle moment, a Relaxing Imp – Meditation made easy.
A meditation practice with Imp. Yeah, that Imp. Very…err, soothing? 😀
A member of:

and
Pro Mix Academy.