Welcome to House of Imp . Where nothing is expected of you. Where you can take your time in peace. Where you can breathe.
House of Imp is the personal website of JennyK – Vocalist, lyricist, and co-producer in the melodic metal band
Icarus Machine.
It is also an intermittent
Blog,
Podcast,
and collection of self-published
fiction.

Share this page on Twitter:
The Imp of houses... where I'm that there... Err, wait....
Click To Tweet
Last updated: April 1, 2019 at 5:33 am
Welcome from jennyK
Corium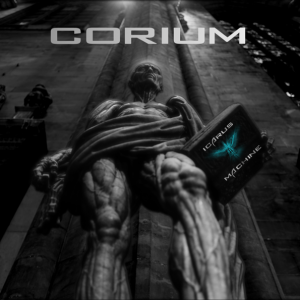 After two years it is finally finished. Corium is our second album and it is a couple of steps up from our debut album "This Sundered World" (2016). This album returns to the world created in the novel "A Mother's Heart." and the theme in this album expands the world and focuses on new characters. The companion novel to Corium – "Mother of Crow" is still being written with no release date in sight.
But Corium is very much ready and you can decide for yourself if it was worth the wait.
Find Corium on
Deezer,
Spottify,
iTunes,
Google Play,
and
Amazon.
and of course on
Bandcamp!
Read the latest on HOI, Icarus Machine, and JennyK :
What's New

Monday, Apr 1 @ 5:42

-

Latest news, thoughts, and things to come April 1 2019 Update in progress: Nag radio coming later today. Latest Mother of Crow Chapter, Petty victories. Thursday March 14 19 So it is out. Corium. Icarus machine's second album. It's been a bit weird. Since I don't do promotion well, any kind of attention causes equal measures anxiety and "hell yeah!". We have received a few requests/offers from magazines and web radio stations. Even and ask for signed pictures. That is actually quite awesome. It's just too bad I don't know how to react to it. Never mind how to deal with the practicalities. Oh, as a "virtual" band, it's not really possible to have actual pictures of us, sign and send. I would love to. I really would. In my particular case, photographs are a complication all of their own. As someone without sight and without sighted assistance, such a seemingly simple thing turns into a mile high obstacle. It feels like I fail those who are interested in our music, what we do, and what we are. I know, it's a sucky way to look at it. But it's how it feels. It's the music that counts. I know. But recognition and a sprinkling of praise feels fantastic too. There's no denying that. But what about connecting to the audience? Yeah, I suck. If you listen to our music, you rock! Thank you. Know that I want to be the confident, interesting, fan-connecting prog band front woman you want to see and hear. But I am not. and perhaps in the end, the music might have to speak for itself and all the rest can fall where it may. Love it or hate it, Icarus Machine will create more… Go to the post.
But if you're not in the mood for any of that:
Rest your brain with a fantasy text adventure: Play it here:
Crystal and Stone, Beetle and Bone – A fantasy game by jennyK
Or do some reading on the Mother of Crow novel page. You know, the novel I'm writing as I publish it? 😀
Or check out one of my favorite episodes from House of Imp – The nonsense collective podcast, House of Imp 21 – A gentle moment, a Relaxing Imp – Meditation made easy.
A meditation practice with Imp. Yeah, that Imp. Very…err, soothing? 😀
Leave a comment using Facebook