Welcome to House of Imp . Where nothing is expected of you. Where you can take your time in peace. Where you can breathe.
House of Imp is the personal website of JennyK – Vocalist, lyricist, and co-producer in the melodic metal band
Icarus Machine.
It is also an intermittent
Blog,
Podcast,
and collection of self-published
fiction.
This month on HOI
Share this page on Twitter:
The Imp of houses... where I'm that there... Err, wait....
Click To Tweet
Last updated: October 22, 2019 at 7:57 am
Welcome from jennyK
Here's where you can help.
This fundraiser is to help with the costs of living, creating, communicating. Choose any amount or pick one. If you wish to support this site and me further, you can make recurring payments. Your help is what keeps this, and me, going. thank you for being a true supporter.
Click below; it's safe and easy.
Donate to Jenny K Brennan
Corium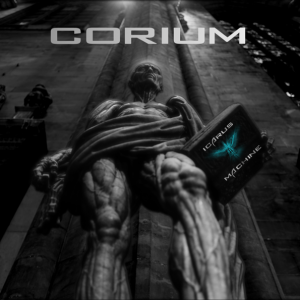 After two years it is finally finished. Corium is our second album and it is a couple of steps up from our debut album "This Sundered World" (2016). This album returns to the world created in the novel "A Mother's Heart." and the theme in this album expands the world and focuses on new characters. The companion novel to Corium – "Mother of Crow" is still being written with no release date in sight.
But Corium is very much ready and you can decide for yourself if it was worth the wait.
Find Corium on
Deezer,
Spottify,
iTunes,
Google Play,
and
Amazon.
and of course on
Bandcamp!
Read the latest on HOI, Icarus Machine, and JennyK :
What's New

Tuesday, Oct 8 @ 10:49

-

Latest news, thoughts, and things to come October 8 2019: To say that I've been on hiatus would be generous. M.I.A, lost in a whirlwind of crap, not able to get my head beyond all the things that are going wrong, now that's more honest. But really, I'm not in the mood to flesh it out. I prefer to look ahead. Here are a few things of interest coming up/happening now. A blog post, some fiction, and another NAG Radio podcast may be in the cards too. Icarus machine is working now on an EP. this collection strays far from the previous story driven "Sundered World" and will certainly be different. It is very much Icarus machine, just better. "Fragile" - remember that name. But here's the real news, All! Icarus machine welcomes a real drummer! Like, this is huge and a long time coming. Seven07 a.k.a Ben Theobald has joined Icarus Machine. I will talk lots on this in the near future. We are very excited and happy to be able to say it's coming together nicely, this band. We have one track for the upcoming EP ready and Ben's drums are simply perfect. 😀 Okay, that's it for the moment. Stay cool, Friends. It's never as awful as it seems, whatever it is. Read all earlier entries here on the news archive page Go to the post.
But if you're not in the mood for any of that:
Rest your brain with a fantasy text adventure: Play it here:
Crystal and Stone, Beetle and Bone – A fantasy game by jennyK
Or do some reading on the Mother of Crow novel page. You know, the novel I'm writing as I publish it? 😀
Or check out one of my favorite episodes from House of Imp – The nonsense collective podcast, House of Imp 21 – A gentle moment, a Relaxing Imp – Meditation made easy.
A meditation practice with Imp. Yeah, that Imp. Very…err, soothing? 😀
Leave a comment using Facebook